---
[Main content]
Meetings
Stan Kenton & François Glorieux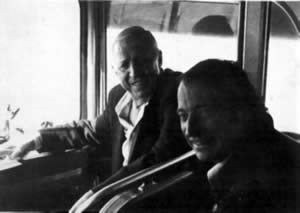 François Glorieux discovered the music of Stan Kenton in 1947. He experienced a shock, which would change his musical life.
He had the privilege to meet Stan Kenton personnally and the bandleader asked him straight away to write for him. François was too modest to agree to this proposal, but in 1976 it became reality.
Glorieux made a two-week U.S. tour with 'The Stan Kenton Orchestra'. He even got the chance to conduct the band a.o. his creation 'Tribute to Stan Kenton'
Later on François recorded his album: 'Tribute to Stan Kenton', on which he plays an arrangement of Stan Kenton's 'Artistry in Rhythm'. The album includes three of François' own compositions, which are unforgettable tributes to another great composer and musician:
'Tribute to Stan Kenton'
'In Memoriam Stan Kenton'
'Artistry in Trombones'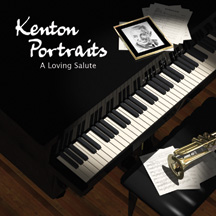 In June 2006 Tantara Productions released a new Kenton double CD called "KENTON PORTRAITS A Loving Salute".
François Glorieux' three pieces dedicated to Stan Kenton were chosen to feature on this cd.



*click on the picture to see the tracklist*
See Also