---
[Main content]
Meetings
Michael Jackson & François Glorieux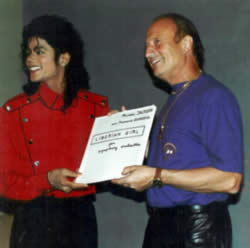 May 2nd 1989 (Los Angeles - US) was an important date in François Glorieux's career. That day he met Michael Jackson during more than two hours.
After listening several times to François Glorieux's arrangement of 'Tribute to Michael Jackson', Michael expressed his admiration as follows:
'Francois' orchestra is wonderful, he is an exceptional musician and I am fascinated by his work on my compositions. I have asked him to proceed with the arrangements of a large number of my successes.'
Less than one year later both artists met again. They listened to and discussed the symphonic arrangement of 'Liberian Girl'. Michael Jackson immediately set up a photo session for the following day and more than 100 photographs were taken.
See Also